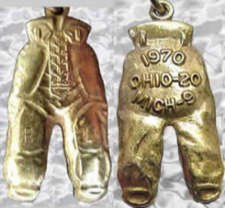 I share John Gasaway's beliefs about amateurism and see the NCAA's attempts to define amateurism as "accepting no benefits besides a scholarship from anyone ever) as misguided. I also think there are a few low-hanging fruit situations where athletes are clearly getting a raw deal. Case in point: EA Sports sold about 1.5 million copies of NCAA Football 2011 for XBox 360 and PS3. If they sold the game for $5 more, maybe sales fall to 1 million (assuming an unrealistically inelastic demand curve), but that $5,000,000 could be given back to the players through the NCAA. It wouldn't be a huge amount of money even then (less than $1000 per player), but it would be equitable--every DI player that had his likeness in the game would get the money--and fair--the game gets every single detail about these players correct except the names, so they are effectively already using their likeness. If the NCAA wanted to play hardball on this I have no doubt that the changes would be implemented immediately.
The argument for allowing players to sell their stuff is also easy, although it assumes no second-stage problems. What I mean is this: there was a mini-uproar after the A.J. Green jersey sale suspension, and later during Gold Pantsgate, as to whether players should be allowed to sell their own stuff, with lots of people coming down on the side of "this is America so yes." And as a first-stage approximation I think this is correct. Some players are more valuable than others, and a good way of letting those players benefit without exacerbating the differences between the SEC and the MEAC would be to let the valuable players sell stuff that other people want. Third parties, and not strapped athletic departments, will then foot the bill.
The second-stage problem is, what happens when teams start giving players cheap crap that they can then sell on the open market. Think of the Gold Pants problem, only if the Gold Pants were made of tin. Every Ohio State player gets Very Special Tin Pants with their initials engraved, and those Tin Pants cost the school $10 each. Boosters know about the Tin Pants arrangement and pay $1,000 a pair for them. There is no difference between this arrangement than the boosters giving that money to the players directly, or the boosters giving that money to the school to give to the players. And I'm not sure how to avoid these fake secondary markets for crappy trinkets that will undoubtedly spring up purely as a way of providing backdoor salaries.
The only solution I can imagine is to permit binding agent relationships on the players at any point during their collegiate careers. In other words, players can agree to agents while in school, and those agents can give money to the players once those players have signed. However, the player must use that agent for his first contract in whatever professional league they next play. Now, agents have a vested interest in finding the best players; they won't just throw money at the backup long-snapper on Auburn because he goes to Auburn. Those few players that are actually underpaid can earn something approximating their true value early, and third parties will take on the risk. There will have to be rules protecting against unconscionable agreements and all that, but the details don't seem all that hard to fill in. And despite my protestations that I really could not care less about the MEAC, this rule will help better protect the little conferences; agents will be more interest in talent than name recognition, and if you are a safety at Southeast Missouri State that will definitely go in the top three rounds of the NFL draft, and agent somewhere will throw money at you to sign.